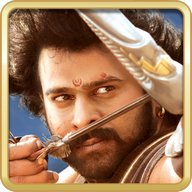 Baahubali: The Game (Official)
Description
Baahubali: The Game (Official) Android Game
Build your Rajya, train army and help Baahubali defeat the enemies of Mahishmati
??
Awarded Google Play Best of 2017!
??
- Most Competitive Games
- Most Popular Games
Mahishmati needs your help, Senapati!
Train your army, build your defences, and join forces with BAAHUBALI, KATTAPPA, BHALLALADEVA, DEVASENA and the other heroes from Bahubali and Bahubali 2 movie to push back the ruthless Kalakeya. Using your army and the special powers of Heroes, wage war against the Kalakeyas, defeat them in challenging battles and bring glory to Mahishmati. Play with friends, make clans, and enter into PvP battles with other players from around the world.
FEATURES:
- Build an undefeatable fort to help Mahishmati become a mighty empire
- Build archer towers and spear towers to defend your fort
- Ambush invaders with the dangerous spike traps and snake traps
- Destroy your enemy's army with superior weapons like the arrow machine
- Research and train your troops using the barracks, the armoury and the war library
- 10 UNIQUE TROOPS from the movie are available for battle
- Smash enemy forts and rajyas using powerful war elephants and long range catapults
- Plunder and capture enemy's resources with the help of thieves
- Priests heal your army with the blessings of the Gods of Mahishmati
- Unlock powerful Heroes with glorious powers! Baahubali's Lion Punch, Kattappa's Summon Guards and Bhallaladeva's Chain Mace will strike terror in the hearts of the enemies of Mahishmati!
- Win battles using special Spells and Rally
- Fight Solo Missions against the cruel Kalakeyas
- Battle other Players to become the most powerful Senapati in Mahishmati!
- Make clans with your friends and wage war against other powerful clans for the glory of Mahishmati
In news:
"Exciting stuff coming your way. Stay tuned,' official Facebook page of Baahubali
'Another milestone for 'Baahubali'! Game based on the film crosses 1 mn downloads' Economic Times
'The game has also become the top-most downloaded game', DNA India
Mis-spellings:
Bahubali, Bahuballi, Bāāhubali
Disclaimer:
- Bahubali is a free-to-play game.
- A network connection is required in this game.
- Players can purchase additional items for real money, or earn them through special offers.
- Please adjust your device settings to turn off in-app purchase if you wish to lock out the ability to buy in-game content.
- Use of this application is governed by Moonfrog Labs Pvt. Ltd. Terms of Use. Collection and use of personal data are subject to Moonfrog Labs Privacy Policy. Both policies are available at www.moonfroglabs.com. Additional terms may also apply.
- We may use various types of information available on the device along the likes of Device-Identifier(s) and/or other locally stored account names in order to detect fraudulent or abusive behaviour among users only.
- Your location information may be used to provide custom location specific features of the game to enhance your experience in the game.
- This app may require permissions to write on your SD Card or external storage in order to save device space.
© 2017 Moonfrog Labs Pvt. Ltd. All Rights Reserved.
Note:
Bahubali, Bāhubali, Bāhubali 2, Baahubali 2, Baahubali: The Beginning, Baahubali: The Conclusion and all related designs, styles, images, video, audio and movie clips are owned, in part or whole, by ARKA Mediaworks Pvt. Ltd. and used under license given to Moonfrog Labs Pvt. Ltd.
Social Media:
Reach out to us for feedback, we would be glad to hear from you :)
Our facebook fan page: www.facebook.com/BaahubaliTheGame/
Write to us on baahubali-feedback1@moonfroglabs.com
Baahubali The Game
The official strategy game for the movie Baahubali
Info
Info
Visitor
From: Brazil
Phone/Browser: Android
You might also like:
Android Games service is provided by PHONEKY and it's 100% Free!
Games can be downloaded by Samsung, Huawei, Oppo, Vivo, LG, Xiaomi, Lenovo, ZTE and other Android OS mobile phones.